Quality Standards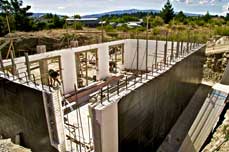 At Walkers Builders we are passionate about the quality of all aspects of our developments. We care about our customers and will go that extra mile to ensure they are completely satisfied with their new home. Our unrelenting attention to design, build quality and standard of finish ensures that we create the perfect ambience for your new home. From door bell to loft light, our homes feature detail as standard which from many of our competitors are considered extras.
Quality control is paramount and each home is personally inspected by our site managers prior to handover. In fact the whole construction process is controlled in-house so we can guarantee a first class product. And to complete the process our in-house after sales team are there to smooth away any problems you may encounter.
A Pleasure Building with walkers
Choosing and buying your new home should be one of life's enjoyable experiences. That's why at Walkers Builders our commitment to building outstanding homes is matched by our dedication to providing excellent customer service.
We work hard behind the scenes to ensure that your journey from reservation to moving in, and well beyond, is as smooth and pleasant as possible.
At Walkers we take care of everything from the most important details, such as giving you accurate information about the timing and handover of your home, through to the little touches such as making sure you receive your documentation as and when you need it, and that it's easy to understand.
YOUR VIEWS ARE IMPORTANT TO US
Your feedback is critical to ensuring that we continue to provide you with the best possible service. So we ask every Walkers homeowner to rate our performance and comment on various aspects of our service.
Whatever style of home you choose, and wherever it may be, we will ensure that you receive a high standard of personal attention at all times – before, during and after purchase
get to know us
Attention to Detail

From design and planning, right through to adding the final finishing touches to your stylish new home, we keep your needs in mind, ensuring we create homes to suit all lifestyles. Rest assured that from the moment you reserve your new Walkers home, we do our very best to make the experience enjoyable and informative every step of the way, not just while you're buying, but after you've moved in too.
Choice is Yours

With Walkers Builders you have the luxury of the widest choice of quality new homes in the greatest number of desirable locations throughout Central Otago. So however you live your life, you'll feel more at home with us.
Built with you in mind

However you live your life, there's a Walkers home to suit you. From low maintenance plots to detached family homes to barns and everything in between.